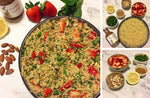 | | | | |
| --- | --- | --- | --- |
| Serves | Prep Time | Cook Time  | Total Time |
| 2 | 20 | 20 | 20 |
This Valentine's Day inspired salad is light, refreshing and delicious! Treat yourself to a lunch that feels special and indulgent, but also won't make you overly full for your date night. Our Champagne Vinaigrette creates an elegant, cohesive flavor, transforming ordinary quinoa into a sophisticated treat. Make extra to use as a topping over a bed of spinach or arugula, or bring in a big bowl for your coworkers as a Valentine's Day gift!  
Begin by cooking the quinoa according to the package directions. This salad was prepared with 1 cup of uncooked quinoa, and it made enough for about 4 servings. Feel free to adjust the quantities as you please!
While your quinoa is cooking, begin prepping the other ingredients. Carefully rinse the strawberries, mint and lemon. Chop up the strawberries into bite sized pieces and set aside. Make sure the mint is dry, and then begin removing any thick stems. Roughly chop the mint into thin ribbons and set aside. We used slightly over half a bunch of mint. Now, take your lemon, making sure it has been thoroughly rinsed, and begin zesting. We used the zest of 1 lemon, and the juice from half of that lemon. Lastly, get a handful of roasted almonds and roughly chop. We ended up with 1/3 cup of chopped almonds, but if you love having crunch in your salad, we totally support you adding a little more!
Take the cooked quinoa and make sure it has cooled off completely. Transfer the cooled quinoa to a large bowl and add the strawberries, mint, and lemon zest. Toss briefly, and then add in the chopped almonds, lemon juice, and ¼ cup of our Champagne Vinaigrette. Mix all the ingredients together well, and add more dressing to taste. This salad works wonderfully as is, but you could also add it as a topping over a bed of greens. If you wanted to add in another element, feta or goat cheese would be a spectacular addition. Make a little extra and share it with your office as a way to show your appreciation for your coworkers (trust us, there will be enough chocolate going around already)!