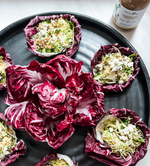 These radicchio cups are filled with a mixture of grains, raw vegetables, creamy avocado and fresh herbs. Decadently dressed in our Champagne Vinaigrette, these healthy veggie tacos are certain to be the talk of your dinner party!   
Thanks to the raw ingredients and conveniently prepared ingredients from Whole Foods, this delicious salad can be thrown together in a snap! Start by peeling away the layers of radicchio, keeping them intact, and setting aside after rinsing well. Dice the avocado and chop half a bunch of parsley and mint. Add the avocado, parsley, mint and cooked grains to a large mixing bowl with the shaved Brussels sprouts. Before mixing, top it off with a generous spoonful of sesame seeds and four tablespoons of Dress It Up's Champagne Vinaigrette. Using the radicchio petals as a plate, add a few spoonfuls of the raw veggie mixture to each leaf. Top with microgreens, and an extra sprinkle of sesame seeds if you please!
We served this dish at the Ovarian Cancer Research Alliance's Turn Up the Heat gala, and they were a huge hit! Try making them as an appetizer for your next dinner party, and bask in the compliments. We kept it vegan, but it would also be delicious with crumbled feta in the mix!