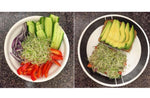 | | | | |
| --- | --- | --- | --- |
| Serves | Prep Time | Cook Time  | Total Time |
| | | | |
For those days when nothing sounds as good as a big monster of a sandwich! 
This sandwich is filled to the brim with delicious, crunchy vegetables. Achieve luscious flavor in your filling with a spoonful of our Champagne Vinaigrette. 
| | |
| --- | --- |
| 1/2 | Bell Pepper, small pepper, thinly sliced |
| 1 | Cucumber, small Persian cucumber, thinly sliced lengthwise |
| 1/4  | Red Onion, small onion, thinly sliced |
| 1 generous handful | Potomac Sprout Company Alfalfa Sprouts |
| 1 tbsp | Hummus |
| 2 slices | Multigrain Bread  |
| 1/2  | Avocado, sliced |
| 1 spoonful | DRESS IT UP DRESSING Champagne Vinaigrette |
All you need is a couple of minutes to make this masterpiece of a sandwich! Make it ahead of time and bring it to work or throw it together for a quick lunch. Double (or triple) the recipe and share with friends!
Rinse and cut the vegetables as directed above. Feel free to substitute ingredients as desired. Tomato and feta would both be great additions!
Once the vegetables are prepared, set aside in a bowl and add the Champagne Vinaigrette. Let the vegetables marinate in the bowl, adding some salt and pepper if desired. Toast the bread until lightly brown.
Prepare the avocado by removing the pit and slicing thinly. Remove the bread from the toaster and add the sliced avocado on one side and a layer of hummus on the other. Then, add your vegetable filling and a generous layer of alfalfa sprouts. The crunch of the sprouts is key to varying the texture of this sandwich, so be sure not to forget them!
Slice your sandwich in half and enjoy! If packing it to go, we recommend wrapping in parchment paper before cutting to keep everything in tact.