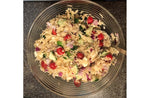 | | | | |
| --- | --- | --- | --- |
| Serves | Prep Time | Cook Time  | Total Time |
| 4 | 15 | 15 | 15 |
If you're looking for a refreshing side dish at your next summer event, this is the recipe for you. It's quick, scrumptious and like any good summer dish (or revenge 😉  😆 ), it's best served cold! 
Cook the orzo according to the directions on the package. Place the cooked orzo in the fridge to cool while you prepare the vegetables. Rinse your veggies, and then chop uniformly. Add your chopped veggies to the cooled orzo, and mix in crumbled feta. Finally, dress up your dish with our Red Wine Vinaigrette! The orzo will soak up the delicious flavor of the vinaigrette, and the veggies complete the dish with  bursts of different textures. Feel free to adjust the amount of dressing to your liking and add any seasonings you wish! This salad can be served immediately or left to chill, making it wonderfully flexible in case you'd like to prepare it ahead of time. If you give it a try, we'd love to hear what you think!