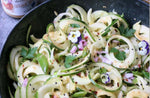 | | | | |
| --- | --- | --- | --- |
| Serves | Prep Time | Cook Time  | Total Time |
| 4 | 20 | 4 | 20 |
A crunchy refreshing cucumber noodle salad with sugar snap peas, red onions, black sesame seeds & a pinch of red pepper flakes, coated in our luscious Sesame Tahini Dressing.
| | |
| --- | --- |
| 4 | Large cucumbers, spiralized |
| 1 cup  | Sugar snap peas, sliced |
| ½  | Small red onion, diced |
| 1 tsp | Black sesame seeds |
| Pinch | Red pepper flakes |
| To taste | Salt & pepper  |
| Garnish | Fresh parsley & edible flowers, if desired |
| 1 cup  | DRESS IT UP DRESSING Sesame Tahini Dressing |
Spiralize the cucumbers and then either place them in a bowl.
Add a big pinch of salt, cover with Saran wrap and let them sit in your refrigerator for at least an hour, or overnight.
Drain the cucumbers in a colander and gently pat dry.
Blanch the snap peas in boiling water for a minute or two.
Drain and submerge in a bowl of ice water to stop the cooking and preserve the color.
When the snap peas are cool enough to handle, slice them diagonally.
Place the cukes, snap peas and onions in a large bowl.
Add salt & pepper to taste
Pour ½ cup of dressing on the veggies and gently toss.
Drizzle the remaining dressing on top.
Sprinkle with a pinch of red pepper flakes if desired, and the sesame seeds, parsley and edible flowers.
Serve immediately.
This recipe is brought to you by Anne, the author of the Instagram site @ASaladforAllSeasons! Her page is filled with incredible recipes and you MUST go check it out! We are so proud to win over the support of this salad aficionado – she even said our Sesame Tahini is hands down her new favorite bottled dressing!
Check out the full recipe on her site and then be sure to stay and click around! We know you'll find something delicious.