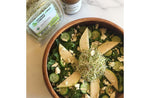 | | | | |
| --- | --- | --- | --- |
| Serves | Prep Time | Cook Time  | Total Time |
| 4 | 20 | 0 | 20 |
This recipe has everything you're looking for in a salad – plenty of fresh ingredients, a little crunch, and the exact right amount of indulgence! Our Champagne Vinaigrette is subtle enough to let all of the ingredients shine on their own, while lending an irresistible, rich flavor.   
| | |
| --- | --- |
| 5 cups | Arugula  |
| 1 | Persian Cucumber, sliced into thin rounds, about 1/8 inch |
| 1 | Barlett Pear, cored and sliced |
| 3 tbsp | Herbed Goat Cheese, crumbled |
| 1/4 cup | Blanched almonds, slivered |
| Just a splash | Lemon Juice |
| 1/2 cup | Alfalfa Sprouts (if you're in the area, we highly recommend Potomac Sprout Company's alfalfa sprouts!) |
| 2 tbsp | DRESS IT UP DRESSING Champagne Vinaigrette |
In collaboration with Potomac Sprout Company (aka the makers of some of the best sprouts we've ever tasted), we are proud to share with you this DELICIOUS Sprouted Pear Salad recipe. The sprouts add a deliciously fresh crunch to the bowl – and look adorable while doing so!
Start by slicing the pear and placing in a bowl with the lemon juice to prevent browning. This also gives the salad a light boost of acidity and hints of citrus. After your other ingredients are prepped according to the directions above, begin plating your dish. We started with the sliced cucumber and slivered almonds. For ultimate fanciness, carefully place the sprouts in a mound in the center of the bowl, and fan out your pear slices in a ring around the sprouts. Finish the bowl off with crumbled goat cheese and our Champagne Vinaigrette!
The ingredients for this salad aren't exact, so play around with them depending on your preference! Another delicious addition would be a handful of pomegranate seeds or some fresh chopped herbs, but it's also incredible as is!