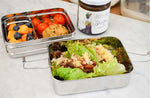 | | | | |
| --- | --- | --- | --- |
| Serves | Prep Time | Cook Time  | Total Time |
| 1 | 5 | 0 | 5 |
As our Facebook and Instagram feeds fill with back to school photos, it's hard to believe summer is coming to a close. That also means it's time to pack school lunches again. One thing I've always loved about this daily ritual is it provides a way to connect with my daughters when I'm not actually with them.
At ages 8 and 13, they take pride in packing their own lunches, but thankfully they still let me lend a hand the rest of the time. Bento boxes are all the rage, but don't let rice shaped into cute little bears intimidate you from using them. A homemade lunch can be creative in what you pack without needing to sign up for master craft classes.
I love bento boxes because they rescue plastic and paper from the landfills. They also offer an actual dining experience—think of them as portable, self-contained plates. My daughters love the feeling of surprise as they open them to see what mom tucked into each compartment. So, it was a natural for us to partner with ECOlunchboxes on some back to school recipes. Sophia already uses them for her kids. They graciously sent me a few to test drive. We used them for a summer picnic, proving that these 3-in-1 nesting lunchboxes are useful year-round.
I decided to repurpose some leftovers for one lunch. Heating up last night's dinner for the next day's lunch isn't a new idea. Turning it into something totally different, though, gives new life to leftovers. The resulting main course was Rice & Bean Lettuce Cups. They're a spin on vegetarian tacos, sans the tortillas. Hope your kiddos love them as much as mine.
Here's the recipe. 
-Jennie
| | |
| --- | --- |
| | Feel free to leave out the cheese if you want to keep this vegan. |
| ¼ cup | Leftover cooked rice |
| ¼ cup | Leftover cooked beans (pinto or black) |
| 2 | Small red leaf, green leaf, or romaine lettuce leaves (from the inner core) |
| (Optional) | Grated cheddar cheese |
| 2 Tsp | |
Add the rice, beans, and Blackberry Vinaigrette to a small bowl. Stir to combine.
Arrange the lettuce leaves in the bottom of the bento box compartment. Using a spoon, divide the filling between the lettuce leaves. Sprinkle the cheese on top, if using.