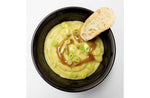 | | | | |
| --- | --- | --- | --- |
| Serves | Prep Time | Cook Time  | Total Time |
| 6 | 20 | 40 | 40 |
This is a souper (ha, get it?) simple recipe to follow, and it only requires a couple of ingredients! The end result is delicious a creamy, warm & flavorful Potato Leek soup that will have you going back for seconds. Oh, and did I mention it's vegan?
| | |
| --- | --- |
| 1/3 cup | Olive oil, divided |
| 2 | Leeks, roughly chopped (rinse well) |
| 4 cups | Vegetable broth, store-bought is fine |
| 1 3/4 cup  | Water |
| 2 lb | Russet potato, cubed |
| 1 | Scallion, sliced (optional) |
| 1/2 tsp | Cayenne pepper |
| 1/2 tsp | Salt |
| 1 Tbsp | |
I am loving this chilly fall weather, especially because it gives me an excuse to eat ALL the soup! Leeks are one of my favorite vegetables, so naturally if I see a potato leek soup, I go for it. This Potato Leek soup recipe is easy to follow, made with all vegan ingredients and is filling without being overwhelmingly rich. A swirl of our Red Wine Vinaigrette on top gives the dish a burst of acidity, which heightens all of the other flavors in the soup. Top the dish with a couple of sliced scallions to add crunchy texture!
Let's Get Started!
Heat 2 tablespoons of olive oil in a large pot over medium heat. Once the oil is hot, add your chopped leeks and cook for about 10 minutes or until softened. As the leeks cook, add the rest of your olive oil little by little. When the leeks are softened, pour the vegetable broth and water into your pot. Add the cubed potatoes and increase the heat so that the mixture begins to boil. Once you get the mixture to a boil, reduce the heat back to medium-low and simmer until the potatoes are tender (about 25 minutes). When you can easily pierce the potatoes all the way through with a fork, then you can remove the mixture from the heat.
Now, for the creaminess! Pour your mixture into a blender – you'll need to do this in batches, as the blender should not be very full. Pulse your mixture a few times, and then allow it to blend until smooth. Transfer these batches to a new pot once done, and when all of the mixture has been blended, you can add your salt and cayenne pepper.
Once you create your individual bowls, add a swirl of Red Wine Vinaigrette and some sliced scallions. Enjoy the soup on its own, alongside a salad, or with a piece of crusty bread.