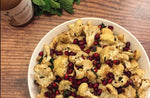 | | | | |
| --- | --- | --- | --- |
| Serves | Prep Time | Cook Time  | Total Time |
| 4 | 10 | 30 | 40 |
Refreshing mint, juicy pomegranate seeds, and roasted cauliflower decadently dressed in our subtly sweet Champagne Vinaigrette. 
| | |
| --- | --- |
| 1 | Large head of cauliflower |
| 1 | Pomegranate |
| 1 handful | Mint leaves, chopped |
| 1 tbsp | Olive Oil |
| 1 tsp | Cumin |
| To taste | Salt and pepper |
| 2 tbsp | |
Just in time for Thanksgiving, we present to you a delicious side dish recipe that all of your guests will love. This roasted cauliflower recipe takes minimal work, but still tastes and looks incredible! Pretty much exactly what you're looking for in a Thanksgiving side dish, am I right?!
The pomegranate seeds give the dish a beautiful festive feel, and the mint adds a refreshing flavor. A sprinkling of cumin before roasting adds a wonderful depth. Amongst the mix of mashed potatoes, stuffing, and casseroles, your guests will be thrilled to have a lighter option on the table. Not to mention it's gluten free, vegan, and Whole30 compliant!
Let's get started.
First, preheat your own to 425 F. While your oven preheats, rinse and chop your cauliflower head into florets. Then, put the chopped cauliflower in a bag and add your olive oil, Champagne Vinaigrette, and seasonings. Close the bag up tight and shake, shake, shake! Mix well, until the cauliflower florets are evenly coated in dressing and seasoning.
Put the cauliflower in the oven and roast until golden, about 30 minutes. Be sure to check on it every once in a while to move around the cauliflower and make sure they don't get overcooked.
While your cauliflower is roasting, prepare your pomegranate seeds. We recommend quartering your pomegranate, and then letting it soak in a bowl of water for a few minutes before using your fingers to separate the seeds from the white interior of the pomegranate. Then, simply use a strainer drain the water and set your pomegranate seeds to the side.
Prepare your mint by rinsing, and then chopping or tearing roughly. When the cauliflower is golden and can be easily pierced with a fork, remove it from the oven and transfer it to a large bowl. Immediately add your pomegranate seeds and mint. Toss until mixed well, and you're done!