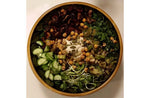 | | | | |
| --- | --- | --- | --- |
| Serves | Prep Time | Cook Time  | Total Time |
| 6 | 20 | 40 | 60 |
Because nothing says "I Love You" more than a Kale-y, I want you to live forever-y warm salad bowl on Valentine's Day. It's a little more complicated than most of our recipes, but the result is the perfect winter dish.
| | |
| --- | --- |
| 1 ½ cups total | A combination of grains – Farro, Red Wheatberry and Black Sticky Rice is what I used (because I had only a little of each) |
| 2 tbsp | Coconut oil |
| 1 | Yellow onion, chopped |
| 1 | Shallots, chopped small |
| 4 | Garlic, whole cloves |
| 1 | Broccoli, small stalk |
| 1/2 | Cauliflower, small head |
| 3 | Spring Onions, one finely chopped and two chopped in 1 inch segments |
| A dozen | Crimini Mushrooms, quartered |
| 4 | Sundried Tomatoes in oil, drain and cut into ¼ inch ribbons |
| 1 tbsp | Butter  |
| 1 can | Chickpeas, divided in three |
| 4 cups | Baby Kale, chopped |
| 1 cup | Sunflower Microgreens |
| 1 large handful | Mint, chopped |
| 1 | Cucumber, small, cut in half lengthwise and then sliced |
| 1/4 cup | Hummus (if making your own, we recommend Ottolenghi's recipe) |
| 1/4 cup | Raw pumpkin seeds |
| | Lemon, just a squeeze |
| 4 tbsp | DRESS IT UP DRESSING Red Wine Vinaigrette |
Preheat oven to 400 degrees
Start by rinsing the grains all together then putting in a pot with three cups of water and a little salt and boil for 30 minutes.
Put one third of the chickpeas on a baking pan lined with parchment paper and put in the oven to roast. Shake the pan occasionally, and in 30 minutes, they should be dried and crispy.
While the grains and chickpeas are cooking, heat a large sauté pan and add the coconut oil. Once it's warm, add the onions, shallots and garlic. Cook until slightly softened, then add broccoli and a few minutes later add the cauliflower (since it doesn't take quite as long to cook) and one third of the chick peas.
At this point add the last third of the chickpeas to the boiling grains (if you add them at the beginning, they'll just turn to mush).
In a separate pan, melt one tablespoon of butter and transfer the whole garlic cloves from the broccoli mixtures (or add new ones if you're a garlic lover). Saute the mushrooms in butter remembering that mushrooms like space and time. Let them brown a bit before stirring. Once the mushrooms are cooked, add the sundried tomatoes to heat and slightly caramelize them.
By this time the grains on the stove and the chickpeas in the oven should be ready. Just before serving, add the spring onions cut into one inch segments to the broccoli pan to soften them slightly. I like having some of the spring onions cooked and some raw since the two tastes are distinct but complementary.
Drain and fluff the grains and place in the bottom of a large bowl. Place chopped kale and raw spring onions on top. Then arrange the mushroom mixture and the broccoli mixture as well as the mint, microgreens and cucumbers in separate piles on top of the kale.
Drizzle liberally with Red Wine Vinaigrette
Then add a dollop of hummus, the baked chickpeas hot from the oven, the raw pumpkin seeds and a squeeze of lemon. If there aren't enough ingredients here for you, add some feta because feta makes it betta.
Invite some friends over, and let them shower you with praise.