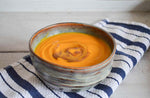 | | | | |
| --- | --- | --- | --- |
| Serves | Prep Time | Cook Time  | Total Time |
| 6 | 20 | 40 | 60 |
I've found my children will eat "Orange Soup" more readily than they will eat Carrot Soup or Butternut Squash Soup. So any of the numerous variations I make between September and March each year, all fall under the heading "Orange Soup". 
There's a limitless number of ways you can make this soup, and the glorious thing is that it's extremely difficult to mess up. It's also a great way to clean out the fridge, and use up some lonely vegetables.
| | |
| --- | --- |
| 1 | Butternut squash |
| 6 | Large carrots  |
| 2 | Parsnips (to me, these are the special secret touch) |
| 1 (Optional) | Potato |
| 1 | Yellow Onion |
| 2 | Garlic Cloves |
| | Cumin Sees |
| | Coconut Oil or Extra Virgin Olive Oil |
| 1 Tbsp | |
We're going to start with the basics today, a simple, comforting flavorful soup. Variations abound, but we'll begin here. In this version, butternut squash is the star, supported heavily with carrots.
Slice the squash in half, and scoop out the seeds. Salt the squash lightly then place it face-down on a baking sheet covered with parchment. Stab the outside with a fork a few times and roast for 30-40 minutes at 425. You can do this an hour, or even a day in advance. Just give the squash a chance to cool before you try separating the flesh from the skin.
Then in a heavy bottomed pan, sauté some onion and garlic slowly in olive oil or coconut oil (the latter adds some extra sweetness) until they're softened, not browned. I add a few cumin seeds and toast them for a moment, too. You can swap in fennel seeds, or leave them out all together, if you prefer, but a little something aromatic at this point really infuses it with flavor.
I then add roughly cut carrots and parsnips to the pot, and let them soften for a few minutes. If I want a thicker soup, I'll add a potato at this point as well. After the vegetables have softened slightly, add about an inch of water or broth, put a lid on the pan, and lett everything steam gently until the carrots and parsnips are nice and tender – about 15-20 minutes. This is a good time to scoop out the flesh of the butternut squash which can be added to the pot at any time.
A stick blender, also called an immersion blender, comes in handy for pureeing the soup right in the pot. You can also do this in batches in a blender if you don't have an immersion blender. I'll puree everything in the pot with a stick blender (because I'm all about reducing the number of dirty dishes). I add water or broth as needed, until I have the consistency I want. If I'm serving it as an appetizer, I'll use more water for a thinner soup that is light. If it's the main course, I keep it thick and hearty.
The finishing touches are all up to you. I like to finish my soup with a few drips or a swirl of vinaigrette – usually Red Wine or Apple Cider. The acidity and salt polish the taste, and make for a richer brew. A dose of spice – from chipotle peppers in adobo sauce, or a splash of sriracha gives a comfort soup some heat and pizzazz. Alternately, simply serving with a little salt and pepper is all you need.
Just add some crusty bread and a salad and you've got a simple and scrumptious winter meal.