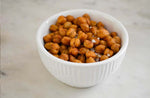 | | | | |
| --- | --- | --- | --- |
| Serves | Prep Time | Cook Time  | Total Time |
| 6 | 5 | 30 | 35 |
I'm one of those people that loves rosemary and thinks there are places it just belongs: potatoes, bread, Ina Garten's toasted cashew recipe. It brings a smell before it brings a taste, becoming a double sensory delight.
Having made the Barefoot Contessa recipe for cashews numerous times, I decided to apply the same principle to roasting chickpeas. They replace croutons in my salads most days, and are easy as can be to make in a variety of different flavors. They're also great for snacking on as-is.
I thought roasting chickpeas was one of the simplest most delightful things you could do in the kitchen, until I met the lovely Jennifer Perillo who asked, "Do you peal the skins off the chickpeas?" No! I didn't. I have 3 minutes to devote to the task of roasting the little gems, so there is no peeling. That's when I learned that for the crispiest, crunchiest chick peas, you have to take the skin off. 
Whether or not you choose to take this extra step, I leave to you. I won't ask; you needn't tell. (I know what I do. And I know what I'll do when Jennifer's coming over).😉
| | |
| --- | --- |
| 1 can (19 oz) | Chickpeas, drained & rinsed |
| 2 | Teaspoons olive oil |
| To taste | Sea salt |
| 2-3 | Sprigs of rosemary |
Preheat the oven to 425F.
Add the chickpeas to a kitchen towel. Rub gently to dry them off; discard any skins that came apart from the beans. You can continue to remove the remaining skins, if you like.
Add the chickpeas to a 9-inch by 13-inch rimmed sheet. Drizzle the oil and salt over them. Add the rosemary. Stir to coat the chickpeas.
Bake for 28 to 30 minutes shaking the pan every 10 minutes, until the chickpeas are crispy and golden. Let cool, and remove the rosemary sprigs before serving. Store chickpeas in an airtight tin for up to 1 month.