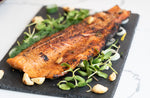 | | | | |
| --- | --- | --- | --- |
| Serves | Prep Time | Cook Time  | Total Time |
| 4 | 10 | 5-7 | 20 |
I'm always a fan of a recipe that is far easier than the finished product would suggest. Simply brushing our Champagne Vinaigrette on salmon, and giving it a moment to caramelize under the broiler does the trick.
This is one of my go to recipes any time I want to impress my family effortlessly. It's deceptively easy for how delicious it is and I would serve it to guests in a heartbeat. It also couldn't be healthier! Low in fat, low in sugar, rich in omega-3s. It's also a winner on the grill.
I prefer to make this with salmon filet, but you could do it just as easily with steaks.
Turn on the broiler and set the rack roughly 6 inches from the flame.
Brush the salmon with the vinaigrette, then sprinkle with sugar and salt. You can let this marinate, if you'd like, but there really is no need.
Broil for 5-7 minutes, depending on the thickness of the salmon. I consider it done when the brown sugar is bubbling and caramelized, but before too much blackening. 
Remove from the oven and serve. I like to serve it with pesto - fresh or store-bought. The sweetness of the salmon is wonderful with the garlic.
In the summer, I serve this with a salad and baguette. In the winter, I prefer a heartier dish, so over rice with roasted vegetables on the side is my preference.
Please let us know how you like it best!