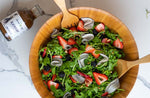 | | | | |
| --- | --- | --- | --- |
| Serves | Prep Time | Cook Time  | Total Time |
| 2 | 10 | 0 | 10 |
This summer berry salad is what summer dreams are made of! Much like the Blackberry dressing it features, this salad has just four ingredients and is super simple. It also makes use of the abundant summer berries, so you can mix it up all summer long depending upon what is in season. 
Strawberries are at their peak here now, but when blackberries are in season, I'll use those instead.
The sweetness of the berries and the vinaigrette when paired with the spicy of the arugula and the radishes is a sweet and spicy sensation!
Wash and rinse the arugula and place in a bowl.
Slice the radishes thinly, or pass them through the slicer of a food processor. Another option, if you want them super thin and if the radishes are large enough you won't lose a finger, is to use a carrot peeler for this job.
Slice strawberries into quarter-inch slices, but for other berries, it is best to keep them whole.
Place all ingredients in a bowl, top with the dressing and serve.
Easy!